By
Dr. Berney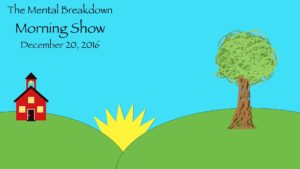 Welcome to The Mental Breakdown Morning Show! Each weekday morning, we will to help get your day off to a great start. This week on the show, we will be talking about five critical ages at which particular skills and abilities should be attained. By age 5, children are starting to enter the next major phase of life – school. To be successful at school, though, children must be able to control their emotions. While they will not be 100% successful, by the time they enter kindergarten, little ones need to be able to control their emotions so that they can take directions from others (i.e., teachers) and transition between activities.

Our schedule will be as follows:
Monday – Weekday Start-up
Tuesday – Mental Health in the News
Wednesday – Questions from Listeners
Thursday – Brown Bag
Friday – Weekend Wind-down
We hope that you will join us each morning so that we can help you make your day the best it can be! See you tomorrow.
The Parenting Your ADHD Child course is now on YouTube! Check it out at the Paedeia YouTube Channel.
The Handbook for Raising an Emotionally Health Child Part 1: Behavior Management is now available on kindle! Get your copy today!
The Elimination Diet Manual is now available on kindle and nook! Get your copy today!
Follow us on Twitter and Facebook and subscribe to our YouTube Channels, Paedeia and The Mental Breakdown.
Please leave us a review on iTunes so that others might find our podcast and join in on the conversation!
NEW!! The Mental Breakdown Podcast is now on Google Play Music!
About our theme song:
Happy Boy Theme by Kevin MacLeod is licensed under a Creative Commons Attribution license (https://creativecommons.org/licenses/by/4.0/)
Source: http://incompetech.com/music/royalty-free/index.html?isrc=USUAN1100647
Podcast: Play in new window | Download
Subscribe: Apple Podcasts |