By
Dr. Berney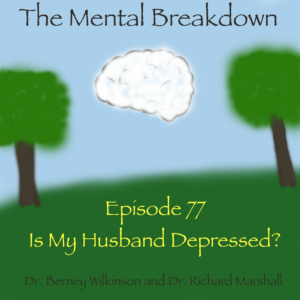 Today's question comes to us from Rebecca, who wrote:
I THINK THAT MY HUSBAND IS DEPRESSED. HE JUST DOES NOT SEEM TO BE HIS USUAL HAPPY SELF WHEN HE COMES HOME FROM WORK, AND ON THE WEEKENDS, HE TENDS TO STAY IN BED AND WATCH TV. WHEN I ASK HIM ABOUT IT, HE SAYS THAT HE DOES NOT WANT TO TALK. IS IT DEPRESSION, AND IF SO, WHAT DO I DO?
In this podcast, Dr. Berney talks about the signs and symptoms of depression.
The Handbook for Raising an Emotionally Health Child Part 1: Behavior Management is now available on kindle! Get your copy today!
The Elimination Diet Manual is now available on kindle and nook! Get your copy today!
Follow us on Twitter and Facebook and subscribe to our YouTube Channels, Paedeia and The Mental Breakdown.
Please leave us a review on iTunes so that others might find our podcast and join in on the conversation!
NEW!! The Mental Breakdown Podcast is now on Google Play Music!
Podcast: Play in new window | Download
Subscribe: Apple Podcasts | Android |